Assembly and Maintenance
Maintaining your chandelier is necessary to extend the life of your chandelier. A chandelier is a beautiful piece of jewelry in your home that deserves a lot of attention. Our lighting therefore requires extra attention when it comes to assembly and maintenance.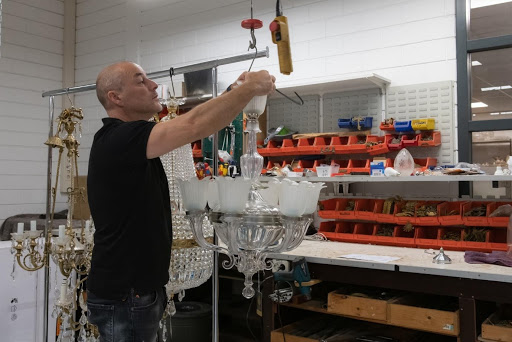 MOUNTING YOUR CHANDELIER
We have an assembly team available to place the chandelier with you. All assemblies are carried out in-house and our employees ensure that everything is taken care of as desired. Do you want us to check your existing chandeliers? No problem. In addition, we can apply a new chandelier to measure. Our assembly team is characterized by direct contact, personal responsibility, customer friendliness and professionalism.
Regular and expert maintenance ensures a longer lifespan of chandeliers, wall lamps and ceiling lights. Especially older, antique chandeliers or lamps chandeliers deserve some extra attention and care. Our team of specialists is ready to maintain your chandelier. In addition, you can conclude a maintenance contract with us. You can discuss all this with us by phone, email or while enjoying a cup of coffee at our office.
What exactly does maintaining a chandelier mean? We will visit you to check your lighting and possibly repair it or to replace parts. We use the latest maintenance techniques for this.
What else do we do? We can also clean your chandelier. For this we use safe and environmentally friendly cleaning products. The cleaning of your chandelier can be carried out on location or in our workshop.
Is maintenance not enough, but are you thinking more towards restoration? We are the only one in the Netherlands recognized by the government as an official restoration company.